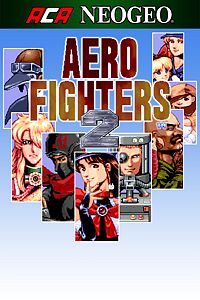 Content: ACA NEOGEO AERO FIGHTERS 2
Check price and availability in your Xbox LIVE region
Game Description: AERO FIGHTERS 2 is a vertical-scrolling shoot 'em up released in 1994 by VIDEO SYSTEM. A variety of unique pilots, including a pop singer and an aviation ninja, take place in dog fights at the speed of sound to save the world. Enjoy a story mode packed with multiple endings.
Purchase ACA NEOGEO AERO FIGHTERS 2 for Xbox One from the Xbox Games Store
Product Info:
Developer: SNK
Publisher: HAMSTER Corporation
Website: ACA NEOGEO AERO FIGHTERS 2
Twitter: @SNKPofficial / @HAMSTER_Corp