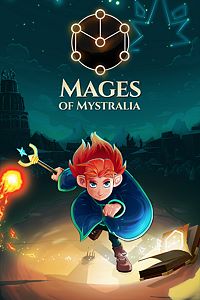 Content: Mages Of Mystralia 
Check price and availability in your Xbox LIVE region
Game Description: In the kingdom of Mystralia, it takes more brains than brawn to succeed. You will face down giant, powerful creatures and navigate treacherous terrain. You will encounter puzzles that confound even the wisest of the old sages. And you must overcome obstacles put in place by people who do not want you to succeed. The story was written by bestselling author Ed Greenwood, creator of the Forgotten Realms fantasy world for Dungeons and Dragons, which served as the basis for games like Baldur's Gate and Neverwinter Nights, as well as about 170 fantasy books.
Purchase Mages Of Mystralia  for Xbox One from the Xbox Games Store
Product Info:
Developer: Borealys Games
Publisher: Borealys Games
Website: Mages Of Mystralia
Twitter: @BorealysGames / @Mystralia