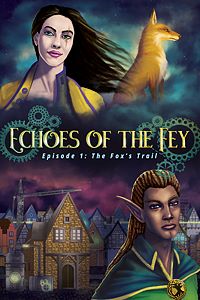 Content: Echoes of the Fey: The Fox's Trail
Check price and availability in your Xbox LIVE region
Game Description: Echoes of the Fey is a series of detective stories set in the high fantasy world of Oraz starring Sofya Rykov, a Human private investigator with a dangerous secret: following a near-death experience in the war, she spontaneously developed the ability to use magic. She is joined by her Leshin partner, Heremon ir-Caldy, a doctor fascinated by Sofya's magic but fearful it will soon come at the cost of her life. Together, Sofya and Heremon navigate the mysteries and tensions of Vodotsk, the city they intend to make both their hiding place and their home.
Purchase Echoes Of The Fey: The Fox's Trail for Xbox One from the Xbox Games Store
Product Info:
Developer: Woodsy Studio
Publisher: Woodsy Studio
Website: Echoes of the Fey: The Fox's Trail
Twitter: @WoodsyStudio