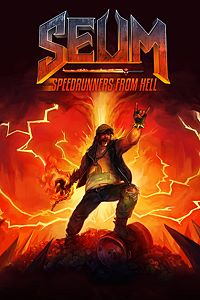 Content: SEUM: Speedrunners from Hell
Check pre-order price and availability in your Xbox LIVE region
Game Description: You may pre-download this game, but it will not be playable until release date (09/21/2017 – 9:00 PM).
SEUM: Speedrunners from Hell is the world's only competitive heavy metal first-person platformer. Slice every last millisecond as you race and blast your way through deadly arenas. Teleport, jump, fly, bounce and drop in a hundred merciless and fast paced maps for the ultimate prize: Your soul! Like a bastard child of Quake 3 and Super Meat Boy, SEUM: Speedrunners from Hell is truly hardcore and focuses on speed and fast reaction. Race and jump over platforms and bounce pads and shoot fireballs to reach an exit portal in the minimal amount of time. Reverse time and gravity. Compete with all players for the top time in the online leaderboards. Only the toughest players will receive the Uber Skull medals!
Pre-order and save 15% – Limited Time Offer.
Xbox One Pre-Order FAQ