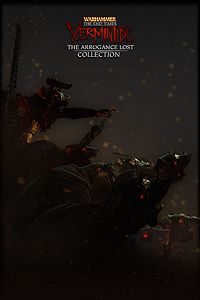 Content: The Arrogance Lost Collection
Check price and availability in your Xbox LIVE region
Game Description: This bundle includes the main Vermintide experience inclusive of Drachenfels content, plus Karak Azgaraz and Stromdorf adventure DLCs!
The once proud city of Ubersreik lay in ruin at the hands of the dreaded Skaven army. Their ruthless invasion left few alive. All that stands in the way of the city's ultimate fall is you and your team of misfit heroes. Team up with 3 friends and work together to cripple the ratmen's forces and drive them out of the city. Assume the role of one of five heroes, and hack, slash, smash, burn and pierce the vile Skaven using a multitude of weapons.
Purchase The Arrogance Lost Collection for Xbox One from the Xbox Games Store
Product Info:
Developer: Fatshark AB
Publisher: Fatshark AB
Website: Warhammer: End Times – Vermintide
Twitter: @fatsharkgames / @VermintideGame