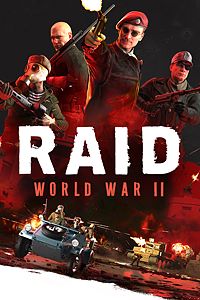 Content: RAID: World War II
Check price and availability in your Xbox LIVE region
Game Description: RAID: World War II is an adrenaline-fueled four-player co-op shooter set during the time when the German war machine was still going strong. Four prisoners of war have been freed by Mrs. White and given a chance to redeem themselves. Their objective? By any means necessary stop the Germans and help end the war. Their reward? The chance to steal anything they find.
Purchase RAID: World War II for Xbox One from the Xbox Games Store
Product Info:
Developer: Lion game Lion
Publisher: Starbreeze Publishing AB
Website: RAID: World War II
Twitter: @liongamelion / @StarbreezeAB / @RAIDWW2