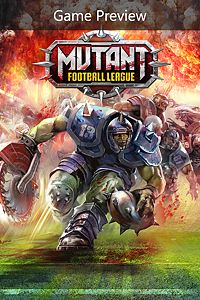 Content: Mutant Football League (Game Preview)
Check price and availability in your Xbox LIVE region
Game Description: This game is a work in progress. It may or may not change over time or release as a final product. Purchase only if you are comfortable with the current state of the unfinished game.
Mutant Football League (MFL) is the bloody-fun, next-gen, successor to arcade-style American football games, taking inspiration from over-the-top sports games such as NFL Blitz and the Sega Genesis classic, Mutant League Football. Digital Dreams' MFL game delivers deep strategic 7-on-7 gameplay, with bone-crunching, tooth-shattering, head splitting hits, and a roster of comical ghouls delivering tongue-through-cheek humor. Oh, and blood. Lots of blood.
Purchase Mutant Football League (Game Preview) for Xbox One from the Xbox Games Store
Product Info:
Developer: Digital Dreams Entertainment
Publisher: Digital Dreams Entertainment
Website: Mutant Football League
Twitter: @MutantFootball