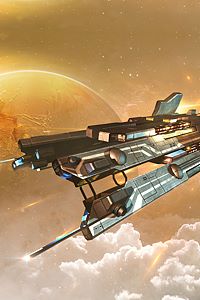 Content: Starpoint Gemini 2 Gold Pack
Check price and availability in your Xbox LIVE region
Game Description: Bundle includes Starpoint Gemini 2 and all downloadable content: Secrets of Aethera, Titans and the massive Origins! Captain your own space ship and roam the galaxy in 3D in this tactical space simulator with tons of RPG depth. Features a complex, but easy-to-use RPG system, now coupled with dynamic real-time 3D combat and fifty diverse factions ranging from states and companies to outlaws, locked in a powerstruggle, with over 100 commodities to trade or plunder.
Purchase Starpoint Gemini 2 Gold Pack for Xbox One from the Xbox Games Store
Product Info:
Developer: Little Green Men Games
Publisher: Little Green Men Games – Intercorona d.o.o.
Website: Starpoint Gemini 2
Twitter: @StarpointGemini