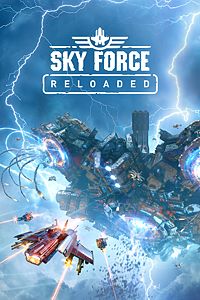 Content: Sky Force Reloaded 
Check pre-order price and availability in your Xbox LIVE region
Game Description: You may pre-download this game, but it will not be playable until release date (11/30/2017 – 9:00 PM).
Sky Force Reloaded is the spirit of the classic arcade shoot 'em ups, captured with modern visuals and design. New entry in the series will keep you entertained with all the things you've came to love in scrolling shooters. Meaty explosions, incinerating lasers, colossal bosses and diverse aircrafts to pilot. Sky Force Reloaded is not your average scrolling shooter. It will draw you in with its beautiful environments and intense effects. It will keep you with its superb gameplay mechanics, progression system and in-game collectibles. It will leave you wishing for more, once it's over. Fortunately, there's a lot to do before that happens.
Xbox One Pre-Order FAQ