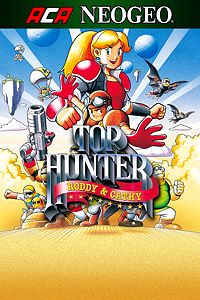 Content: ACA NEOGEO TOP HUNTER RODDY & CATHY
Check price and availability in your Xbox LIVE region
Game Description: TOP HUNTER RODDY & CATHY is a side-scrolling action game released by SNK in 1994. Using a 2-line system with front and back lines that can freely be switched between, jump, shoot, throw, and perform special attacks to defeat the space pirates who aim for total domination. This game offers simultaneous 2 player mode.
Purchase ACA NEOGEO TOP HUNTER RODDY & CATHY for Xbox One from the Xbox Games Store
Product Info:
Developer: SNK
Publisher: HAMSTER Corporation
Website: ACA NEOGEO TOP HUNTER RODDY & CATHY
Twitter: @SNKPofficial / @HAMSTER_Corp