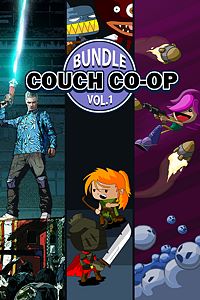 Content: Digerati Couch Co-Op Bundle Vol. 1
Check price and availability in your Xbox LIVE region
Game Description: The Digerati Indie Darling Bundle includes three titles published by Digerati Distribution.
It's better with a buddy! This bundle contains #KILLALLZOMBIES, Vertical Drop Heroes and Bleed, all of which feature local/couch co-op (as well as single-player modes).
#KILLALLZOMBIES – In the distant future, #KILLALLZOMBIES thrusts civilians into a sport of survival, where a ravenous zombie population is unleashed in the name of sports entertainment.
Vertical Drop Heroes – Vertical Drop Heroes is a procedural platformer RPG hybrid with roguelike elements, where your hero adventures through randomly generated stages.
Bleed – Bleed is an action-platformer focused on stylish, acrobatic dodging and fluid, challenging gameplay. There's no filler — just you and your skills against seven levels of enemies, obstacles, breakneck set-pieces and inventive bosses!
Buy now and save 70% – Limited Time Offer.
Purchase Digerati Couch Co-Op Bundle Vol. 1 for Xbox One from the Xbox Games Store
Product Info:
Developer: Various
Publisher: Digerati Distribution
Website: Digerati Couch Co-Op Bundle Vol. 1
Twitter: @DigeratiDM