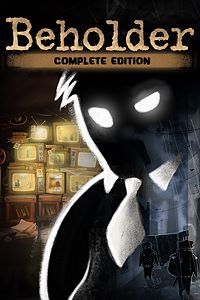 Content: Beholder Complete Edition 
Check price and availability in your Xbox LIVE region
Game Description: You're a Government-installed landlord in a totalitarian State. Your job is to spy on tenants, peep into their lives, eavesdrop on their conversations and profile everyone to ensure laws are beyond obeyed and the State is kept happy. Anyone caught plotting against the State's ever-changing laws MUST be reported. All your choices will have consequences , and the consequences will be yours to deal with. Beholder Complete Edition also contains the Blissful Sleep DLC, a new scenario based on an ex-landlord, with all new tenants and stories to discover.
Buy Beholder Complete Edition between 19/1 and 2/2 to receive Dear Esther Landmark Edition for free.
Buy now and save 40% – Limited Time Offer.
Purchase Beholder Complete Edition for Xbox One from the Xbox Games Store
Product Info:
Developer: Warm Lamp Games 
Publisher: Curve Digital
Website: Beholder Complete Edition
Twitter: @CurveDigital / @Beholder_Game