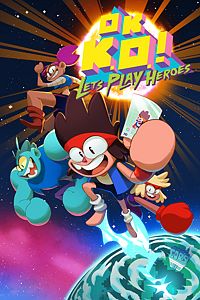 Content: OK K.O.! Let's Play Heroes
Check pre-order price and availability in your Xbox LIVE region
Game Description: Based on the hit Cartoon Network show, this game stars pint-sized hero K.O. as he punches, slide-kicks, combos and power-moves his way through hordes of evil Boxmore robots on an epic quest to save Lakewood Plaza Turbo from the maniacal Lord Boxman. In this story-driven adventure game meets action-packed cartoon brawler, level up your stats to unlock powerful new fight moves, collect the cards of all your favorite Plaza characters and then call them into battle to unleash off-the-wall attacks across tons of crazy quests.
Purchase OK K.O.! Let's Play Heroes for Xbox One from the Xbox Games Store
Product Info:
Developer: Capybara Games
Publisher: Cartoon Network
Website: OK K.O.! Let's Play Heroes
Twitter: @CAPYGAMES / @cartoonnetwork