Category:

Xbox Store
Tesla vs Lovecraft Is Now Available For Digital Pre-order And Pre-download On Xbox One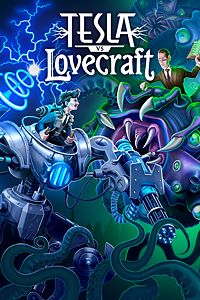 Content: Tesla vs Lovecraft
Check pre-order price and availability in your Xbox LIVE region
Game Description: You may pre-download this game, but it will not be playable until release date (03/15/2018 – 5:00 PM).
On the eve of Nikola Tesla's greatest invention, his laboratory is burned down by the inhuman minions of the horror author H.P. Lovecraft. A showdown of epic proportions begins! Chase the monsters, annihilate massive amounts of eldritch abominations, and overcome the madness of the old gods with science and hi-tech weaponry!
Pre-order now and save 20% – Limited Time Offer.
Xbox One Pre-Order FAQ