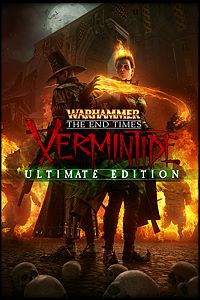 Content: Warhammer Vermintide – Ultimate Edition
Check price and availability in your Xbox LIVE region
Game Description: The once proud city of Ubersreik now stands in ruin at the hands of the dreaded Skaven army. Few have survived their ruthless invasion. Team up with 3 friends and work together to thin out the ratmen's forces and drive them out of the city. Assume the role of one of five heroes, and hack, slash, smash, burn and pierce the vile Skaven using a multitude of weapons. Fight your way through the city of Ubersreik, from the top of the Magnus Tower to the bowels of the Under Empire.
This bundle includes all the additional content that has been released for Vermintide, as well as a bonus skin for your characters. You will get all map packs, and 10 character skins in this the ultimate bundle.
Purchase Warhammer Vermintide – Ultimate Edition for Xbox One from the Xbox Games Store
Product Info:
Developer: Fatshark AB
Publisher: Fatshark AB
Website: Warhammer: End Times – Vermintide
Twitter: @fatsharkgames / @VermintideGame