Our friends at Turn 10 Studios just released a trifecta of announcements for "Forza Motorsport 5" with the unveiling of the first ever direct-feed gameplay footage video, the release of Career Mode details, and news regarding the return of the Silverstone Circuit to the "Forza Motorsport" franchise.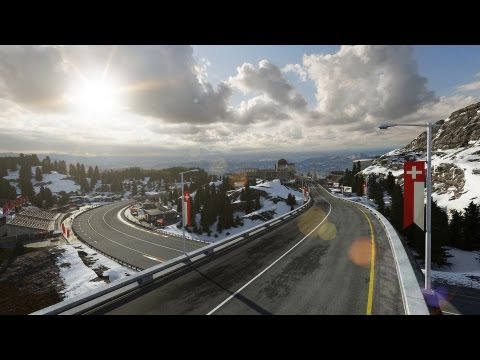 The first ever direct-feed gameplay footage video features the 2012 Pagani Huayra racing in the snowy elevations of the infamous Bernese Alps circuit. Many "Forza Motorsport" fans will recognize the concept of the Bernese Alps circuit from its debut in "Forza Motorsport 4," however; it has been completely rebuilt in "Forza Motorsport 5." From the physically-based materials system that recreates every surface precisely as it looks in real life to the vastly improved lighting engine that brings the stunning beauty of the track to life, the Bernese Alps in "Forza Motorsport 5" is a masterful marriage of innovative technology and pulse-pounding beauty, all running at gorgeous 1080p resolution and at 60 frames per second.

Designed to spotlight the hundreds of drivable cars in "Forza Motorsport 5", the all-new Career Mode is organized into eight leagues, with each league covering a special "genre" of car (such as supercars, vintage, sports compacts, and more). Each set of career events will feature an introduction with commentary provided by Jeremy Clarkson, Richard Hammond and James May – the hosts of Top Gear. Unlike traditional racing game career modes — where players move from low-performance cars and are forcefully guided into more powerful cars over time — the career mode in "Forza Motorsport 5" gives players the power to choose their own paths through the career. Players will have the choice to participate in whichever career mode events they like, provided they own a car that meets an event's requirements, and can return to those events as many times as they like, all the while earning credits and experience as they go.

Last but not least, the Silverstone Circuit will officially make its return to the "Forza Motorsport" franchise in "Forza Motorsport 5." Known as the "home of British Motor Racing," the Silverstone Circuit is 3.6 miles long and features 18 corners ranging from high-speed sweepers such as Woodcote to intricate series like the Maggotts and Becketts corners. The Silverstone Circuit was laser-scanned during development to provide the most accurate rendering of the circuit to be found in any racing game.


The good news just keeps coming for Forza fans – don't miss this week's news on "Forza Motorsport 5" car reveals and our recent interview with Dan Greenawalt, creative director at Turn 10 Studios.