The best broadcasting and spectating experience on any game console is on its way when the new Twitch app launches on Xbox One on March 11. Twitch, the world's largest video platform and community for gamers with 45 million visitors per month, and Xbox One, the only all-in-one games and entertainment system, are joining forces to bring the broadcasting and spectating experience into the new generation. Both Twitch and Xbox One are seeing blazing growth, with Twitch's traffic skyrocketing, as the #4 peak US internet traffic destination and Xbox One off to the fastest launch in Xbox history. On the heels of the acclaimed "Titanfall" beta, which peaked at No. 1 on Twitch across all platforms with more than 65,000 concurrent views on Feb. 13, it's time to give the world its first taste of the next-generation multiplayer action. On March 11 when "Titanfall" launches, Twitch and Xbox One come together for the first truly next-gen Twitch experience, one that can't be matched by any other console.

Only with Twitch on Xbox One can you broadcast and watch your favorite games live by simply saying "Xbox, Broadcast." Once you're done broadcasting, you can use Twitch to watch the games you love, chat with the players you follow, or even join a broadcaster's game. Xbox One is the only next-gen console that allows you to archive your Twitch broadcasts and view live Twitch streams regardless of their original source.

"Only Xbox One offers the most complete Twitch experience, with access to any live broadcast and the full Twitch catalog," said Yusuf Mehdi, Corporate VP of Marketing, Xbox. "We've designed Xbox One to be the best place to play with features and unparalleled partnerships that deliver epic moments for gamers."

"Over the last two years, we have seen the broadcasting and spectating of video games go from a niche activity to a pastime shared by millions," said Emmett Shear, CEO and Founder, Twitch. "As the experience grows in popularity, it's important to provide as broad a feature set as possible for the community. Microsoft has done just that by rolling out the most robust console integration of Twitch to date and setting a new bar for others to strive for."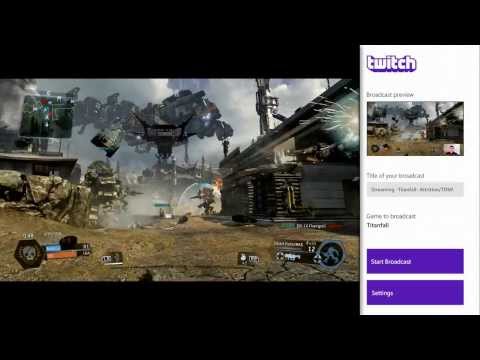 Twitch on Xbox One

Thanks to Kinect, Xbox One owners that have completed a one-time setup of their Twitch account can begin live streaming their game of choice simply by saying "Xbox, Broadcast" at any point during their time playing it. Kinect also allows you to easily include your picture-in-picture video feed and audio commentary along with the game broadcast, making it the perfect way to connect with your friends and followers. Xbox One's Twitch app is a great way to meet new friends, too, as you'll be able to view the gamer card of anyone streaming from Xbox One and begin following them. 


Your Twitch activity will appear right in the friends app and activity feed of your followers, giving everyone a real-time update on what you're broadcasting or watching. You can even set up notifications for a heads-up when one of your favorites begins broadcasting. During the broadcast, broadcasters and viewers will be able to interact (viewers can post comments in the chat stream, while the broadcaster verbally responds or assigns a moderator to keep chat running smoothly while they're busy playing). Xbox One is the only next-gen console offering a complete Twitch chat experience, offering 10 lines in the chat stream and allowing viewers to choose their name color and post emoticons. As an added bonus, broadcasters can invite friends into a private party from the chat stream, allowing them to voice chat outside of the broadcast. 


In addition to the ability to use Kinect's voice commands to begin (and finish!) broadcasting, a number of other special features make the Twitch experience on Xbox One a unique one. You'll have access to the all of the live broadcasts, as well as exclusive content. Unlike other Twitch console experiences, you can also broadcast a full-screen view of the game you're playing or use an on-screen viewer indicator to keep an eye on how popular your live broadcast is. You can even earn Media Achievements just by spectating as you normally would or, we hope, by checking out any of the Xbox One games you haven't seen before.

The best part of the first truly next-gen Twitch experience coming to Xbox One is that it will be here in time for the release of "Titanfall" on March 11. It's fitting that the first truly next-gen multiplayer game will be making a Titan-sized splash on the first truly next-gen Twitch experience.