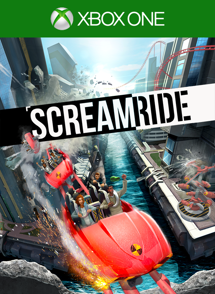 Title: ScreamRide
Check price and availability in your Xbox LIVE region
Game Description: This game features stunning high definition graphics, hundreds of customizable building components, physics-based destruction, cinematic collisions, unlockable levels, in-game leaderboards, global rankings and more. ScreamRide is the home of limitless innovation. Push the boundaries of thrill seekers everywhere. Take on your perfect role to complete each level in multiple ways. Scream seekers can prove their precise piloting skills, engineers can solve cunning construction puzzles and demolition experts can ignite the most explosive carnage possible. The path you choose is up to you!
Purchase ScreamRide for Xbox One from Xbox Games Store
Purchase ScreamRide for Xbox 360 from Xbox Games Store
And if you're in Boston on 05 March, celebrate the kick-off of PAX East with me at the Microsoft Store. Details here.
Product Info:
Developer: Frontier
Publisher: Microsoft Studios
Website: http://www.xbox.com/games/screamride
Twitter: @xbox