Awarded Platformer Bundle Is Now Available For Xbox One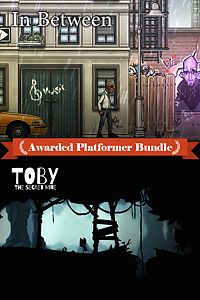 Content: Awarded Platformer Bundle
Check price and availability in your Xbox LIVE region
Game Description: Get the award-winning platformer games "In Between" and "Toby: The Secret Mine" in this awesome bundle!
In Between is set inside the mind of a man hit by a cruel twist of fate. Together you are on a journey through the protagonist's head, a world that doesn't obey the laws of physics. Free your mind and defy gravity in more than 60 compelling and unique puzzles, requiring all your wits and agility.
Toby: The Secret Mine – A peaceful way of life in a small village in the mountains was thrown into disorder. Someone has kidnapped most of its residents. A couple of brave hearts tried to rescue their friends but none of them has returned. Little Toby didn't want to just sit and wait so he decided to find them by himself. He went to the near deep forest but he soon realized this is just a beginning.
Buy now and save 25% – Limited Time Offer.
Purchase Awarded Platformer Bundle for Xbox One from the Xbox Games Store
Product Info:
Developer: Gentlymad / Lukas Navratil
Publisher: Headup Games
Website: In Between / Toby: The Secret Mine
Twitter: @HeadupGames