"Forza Motorsport 5" has partnered with McLaren Automotive and legendary racing and stunt driver Tanner Foust to create a short film called "FilmSpeed," which features one of the world's fastest camera cars that was used to create a blisteringly fast, 120 mph zoetrope featuring scenes from this year's biggest racing game, "Forza Motorsport 5."




In "Forza FilmSpeed," fans enter the track with Foust as he grips the wheel of one of the world's fastest production supercars, the McLaren 12C. The carbon fiber structure of this $300,000 supercar has been outfitted with an additional several hundred pounds of equipment to fit a Hollywood-strength, purpose built HD camera rig, with the sole goal of capturing the world's fastest zoetrope. Acclaimed automotive director and rally champion Jeff Zwart directed the project, which was developed after months of careful research and preparation.

Hundreds of aluminum boards, each featuring a single frame taken directly from "Forza Motorsport 5," were spaced precisely six inches apart and placed along a race track in Birmingham, Alabama. The Foust-driven McLaren 12C hit meticulously controlled speeds of up to 120 mph to capture images, when put together simulating movement and creating the film. 




Invented in 1834 by William Horner, the zoetrope is a simple device that turns static pictures into moving images. Small illustrations are placed equal distances apart inside the bottom of an open drum and when spun, the static illustrations give off the illusion of motion; the faster they go, the more fluid the animation. Filmmakers today have far more advanced technologies at their disposal, but the basic concept of the zoetrope rings true. The more illustrations you use and the faster you flip between them, the smoother the animation.

Check it out here: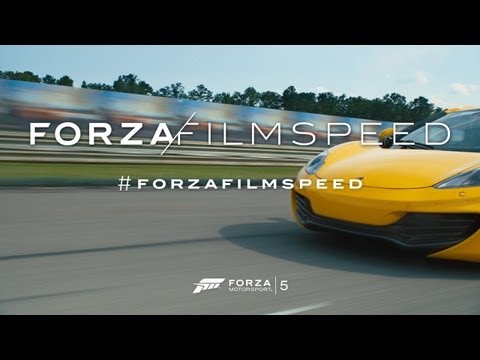 "Forza Motorsport 5" will be available on Nov. 22, 2013 with the launch of Xbox One. For more information on "Forza Motorsport," please visit http://forzamotorsport.net and stay connected to http://news.xbox.com/en-us/.