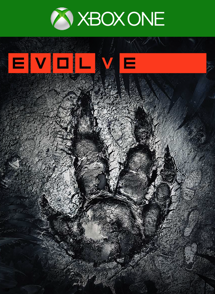 Game Description: To pre-order this game please select one of the pre-order editions from the Xbox Store. XBOX ONE GAME EXPECTED TO RELEASE ON 2/10/2015. YOU MAY DOWNLOAD THE GAME FROM XBOX LIVE BEFORE THEN, BUT IT WILL NOT BE PLAYABLE UNTIL 12:01 AM EST ON THE RELEASE DATE.
Evolve is the next generation of multiplayer shooter featuring adrenaline pumping 4v1 action. A player-controlled Monster must evade a team of four unique playable Hunters who are working together and stalking to kill. Evolve and overpower as the Monster or team up and outnumber as the Hunters. It's survival of the fittest and any side can win.
Choose your side.
There are 2 versions of Evolve available for pre-order – Evolve Pre-Order + Third Characters Set and the Evolve Digital Deluxe Pre-Order + Third Characters Set.