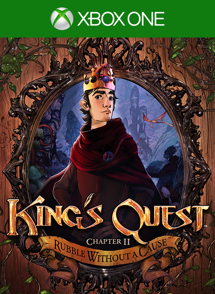 Content: King's Quest – Chapter 2: Rubble Without A Cause
Check price and availability in your Xbox LIVE region
Game Description: King's Quest – Rubble Without A Cause is the second of five chapters in the new, critically acclaimed reimagining of the classic King's Quest game series. In this latest adventure, King Graham takes players back to his first test as ruler of Daventry. When a mischievous horde of goblins takes his kingdom hostage, a newly crowned & woefully unprepared Graham must rise up to free his people & prove himself the leader he was destined to become.
King's Quest – Chapter 1: A Knight to Remember is required to play this content & is sold separately.
If you already own King's Quest: The Complete Collection or Season Pass, DO NOT repurchase this content here or you will be charged again.
Purchase King's Quest – Chapter 1: A Knight to Remember for Xbox One from the Xbox Games Store
Purchase King's Quest : The Complete Collection for Xbox One from the Xbox Games Store
Purchase King's Quest – Chapter 1: A Knight to Remember for Xbox 360 from the Xbox Games Store
Purchase King's Quest : The Complete Collection for Xbox 360 from the Xbox Games Store
Product Info:
Developer: The Odd Gentlemen
Publisher: Sierra
Website: King's Quest
Twitter: @TheOddGentlemen