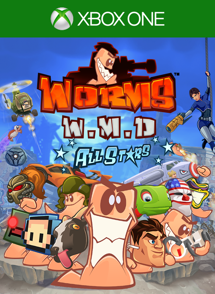 Content: Worms W.M.D
Check price and availability in your Xbox LIVE region
Game Description: Worms W.M.D is the best worms experience ever. Work your way through 30 campaign levels of increasing difficulty using the huge arsenal of new and classic weapons at your disposal. Use new vehicles to cause chaos amongst the enemy ranks and use buildings to gain the tactical advantage as you try to dominate the battlefield! Take on up to five opponents in hilarious all-out tactical worm warfare with up to eight worms each, either in local or online multiplayer, including ranked play. With 80 weapons and utilities at your fingertips, this is Worms at its chaotic best!
Available until September 6th, this Edition of Worms W.M.D includes the Worms W.M.D All-Stars Pack, featuring an army of guest stars from some of the hottest games around!
Purchase Worms W.M.D for Xbox One from the Xbox Games Store
Product Info:
Developer: Team17 Digital Ltd.
Publisher: Team17 Digital Ltd.
Website: Worms W.M.D
Twitter: @Team17Ltd