For nearly as long as I can remember, this has always been a special, eagerly anticipated time of the year as developers, publishers, and gamers come together to celebrate the industry and get a glimpse of the future at the annual E3 expo. Nearly fifteen years after I attended my first E3 in support of Halo 2, I'm more excited than ever for what's next in the franchise. This year, we look to the future and "Discover Hope" with the reveal of a new Halo Infinite video and take a trip down memory lane with an updated and improved Halo: Reach coming to Halo: The Master Chief Collection on Xbox One and PC.
Halo Infinite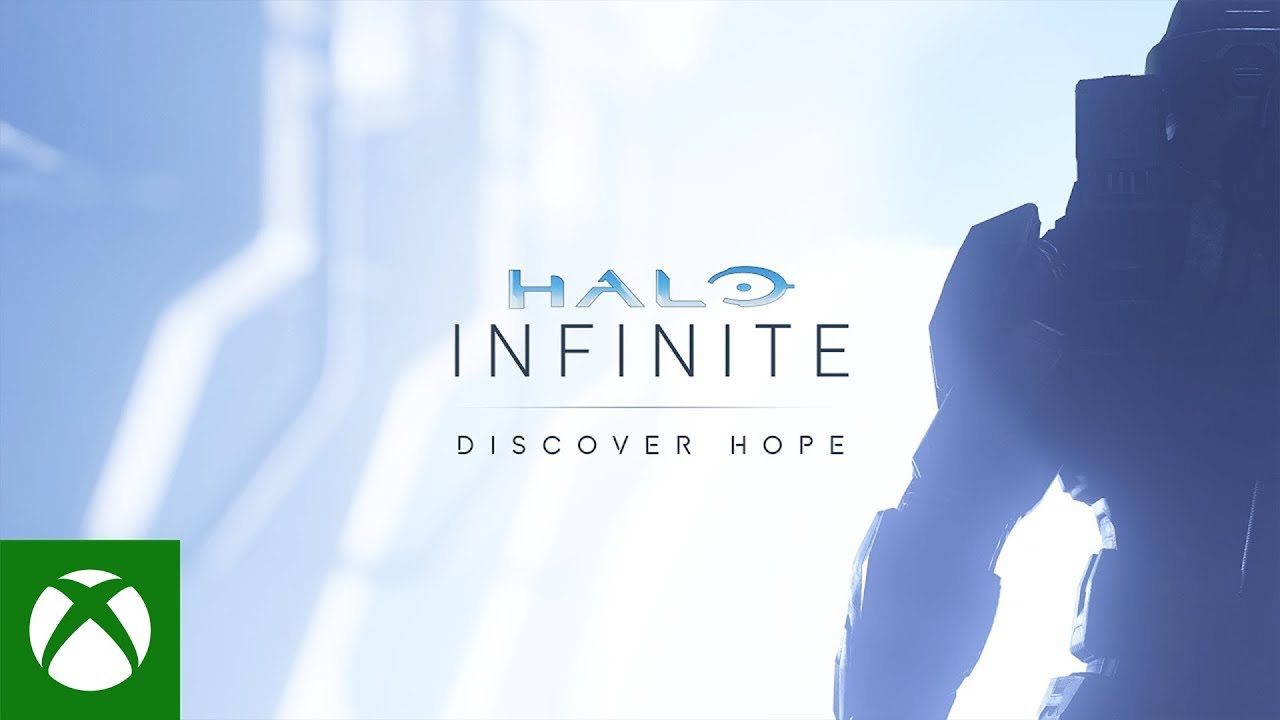 We're ecstatic to share the "Discover Hope" video which introduces a new character and heralds the return of our iconic hero amidst dire and mysterious circumstances. Like last year's reveal trailer, this latest look at Halo Infinite is powered by our new Slipspace Engine – an engine built from the ground up to realize our incredibly ambitious aspirations for the future of the franchise. Which yes, also includes the long-awaited return of split-screen support to the series.
During today's briefing we also confirmed that Halo Infinite will launch alongside Project Scarlett in holiday 2020. Halo Infinite will support more platforms than we ever have for a single game including the entire Xbox One family of devices and a wide range of PCs (and will of course be included with Xbox Game Pass for PC and console).
Bringing the latest technology from the platform together with the most sophisticated Halo engine ever created unlocks completely new opportunities for the developers and for gamers. As Chris Lee, Studio Head of Halo Infinite, puts it, "By harnessing the power of our new Slipspace Engine and combining it with the power and promise of Project Scarlett, we plan to build the Halo game we've always dreamed of – and share it with even more players, competitors, adventurers, and creators than ever before."
We hope you enjoy the video – it represents the passion, hope, and hard work of creative developers at 343 Industries. We know you have many, many unanswered questions and we're excited to share more further down the road. For now, head over to Halo Waypoint to hear more from Chris Lee.
Halo: Reach and Halo: The Master Chief Collection on PC
While the majority of the team at 343 Industries is hard at work on the future and the next installment of Chief's saga, our MCC team has been laser-focused on the storied legacy experiences of the past. If you haven't been following along, Halo: The Master Chief Collection (MCC) on Xbox One has received dozens of updates over the past year adding new features and improvements in close partnership with the community via public flighting. With the foundation of these classics looking and playing better than ever, the team at 343 has enlisted the help of partners at Splash Damage and Ruffian to deliver on two of the community's most frequent longstanding requests – adding Halo: Reach to MCC — and bringing the entire collection to PC via the Microsoft Store and Steam.
This week at E3 we'll offer attendees a chance to get hands-on with an in-progress demo of Halo: Reach on PC and share feedback with the team. Don't fret if you can't make it to the show – we're getting ready to kick off public flighting of Halo: Reach this month. Please visit www.haloinsider.com to sign up for a chance to participate in MCC flighting and join us on this journey.
We've been blown away by the outpouring of excitement since the initial announce and the most frequently asked question we hear daily is "what's the release date!?" Each title in MCC for PC will be released in a staggered fashion as they are ready, beginning with Halo: Reach. In order to deliver the best native PC experiences possible, we'll be partnering closely with the community via the Halo Insider program to get work-in-progress builds into players' hands to gather critical feedback and learnings along the ways. Check out our April and May development update blogs at Halo Waypoint to read more about our journey to bring MCC to PC. (And as a reminder, Halo: Reach is also coming to MCC on Xbox One!)
The next question we hear a lot is "how much will the MCC PC games cost?" On PC, we're excited to confirm that each game within MCC will be included with an Xbox Game Pass for PC subscription as they become available. In addition, each title can be purchased individually – Halo: Reach, Halo: Combat Evolved Anniversary, Halo 2 Anniversary, Halo 3, and Halo 4 will be offered at $9.99USD on both the Microsoft Store and Steam while Halo 3: ODST within MCC (with a current scope of Campaign only), will be available for $4.99USD. Players will have flexibility to purchase any or all the games at any point along the way as they become available.
Halo: Outpost Discovery
Fans in North America can also get hands-on with Halo: Reach on PC this summer at Halo: Outpost Discovery – a weekend-long touring event that brings the Halo universe to life with more than 300,000 sq. feet of enthralling themed attractions, interactive in-universe encounters, plenty of playable games, and much more. And what better way to pass the time while waiting for MCC on PC and more news than spending a weekend fully immersed in real-life Halo hanging out with members of the 343 team and special guests like Steve Downes, the gravelly voice of the Master Chief and Jen Taylor – who brought Cortana and Dr. Halsey so memorably to life.
We have tons more to show and share in the weeks and months ahead, so be sure to stay tuned to Halo Waypoint and follow @Halo on your favorite social media platforms. In addition, join us for a celebration of E3 by logging in to Halo 5: Guardians today through Thursday to claim a free daily Platinum REQ Pack.
On behalf of the entire team at 343 Industries, thank you for your support and for joining us on this journey – we've got so much to look forward to, and we're just getting started