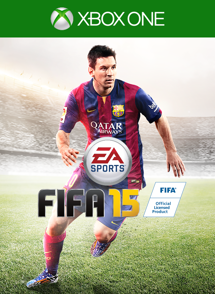 Content: FIFA 15
Check price and availability in your Xbox LIVE region
Game Description: FIFA 15 brings football to life in stunning detail so fans can experience the emotion of the sport like never before. Witness the intensity of crowds chanting and cheering like on match day, and listen to commentators guide fans through the story of the game with Dynamic Match Presentation. For the first time ever, all 22 players on the pitch are connected with Emotional Intelligence – now players will react to opponents and teammates within the context, and relative to the narrative of the match. Next Generation Visuals put fans on Living Pitches with grass that wears and tears as the match progresses. Authentic Player Visuals make players lean, athletic, and true to their real-life appearance. Player Control heightens the responsiveness of player movement, gives athletes more control and personality on the ball, and makes Man-to-Man Battles more rewarding than ever before. To get 10% off your purchase, you'll need to sign up for EA Access before you pre-purchase FIFA 15.
Note: There are two versions of FIFA 15 available for Xbox One – the FIFA 15 standard edition and the Xbox One FIFA 15 Ultimate Team Edition. Click each link for more details.
FIFA 15 is also available for Xbox 360. Check price and availability in your Xbox LIVE region.
FIFA 15 Ultimate Team is also available for Windows Phone and for Windows 8.1. Click each link to visit the correct Store for your device.