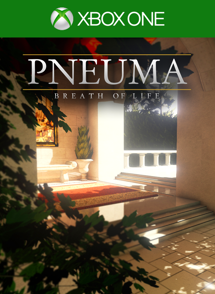 Title: Pneuma: Breath of Life 
Check price and availability in your Xbox LIVE region
Game Description: Pneuma provides players with a sense of awe and a relentless determination to solve every puzzle and progress through a narrated story of self-discovery, exploring the fundamental nature of being. This is the first person puzzler of 2015 which is designed to force players think outside the box and explore beyond what they know as reality. This game isn't about your skill with a controller, it's about how you perceive and analyse situations. Push your brain to its limits in this exciting new first person puzzler as Pneuma contemplates the nature of reality and you explore the ontological mystery of the Breath of Life.
Purchase Pneuma: Breath of Life for Xbox One from Xbox Games Store
Product Info:
Developer: Deco Digital & Bevel Studios
Publisher: Deco Digital & Bevel Studios
Website: http://www.pneumabreathoflife.com/
Twitter: @DecoDigital