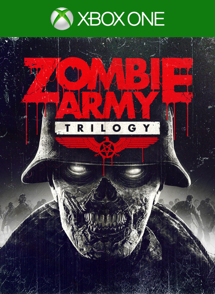 Title: Zombie Army Trilogy
Check price and availability in your Xbox LIVE region
Game Description: In the dying flames of World War Two, Hitler has unleashed one final, unholy gamble – a legion of undead super soldiers that threatens to overwhelm the whole of Europe. Fight alone or team up to save humanity from the zombie menace in this apocalyptic third-person shooter! Battle through three campaigns across 15 levels. Brave the irradiated wastes of Germany solo, or fight back-to-back in online co-op for 2-4 players.
Purchase Zombie Army Trilogy for Xbox One from Xbox Games Store
Please note: Zombie Army Trilogy is on sale from 06-13 March for Xbox Live Gold members. Prices and availability are subject to change and may vary by region.
Product Info:
Developer: Rebellion
Publisher: Rebellion
Website: http://www.zombiearmy.com/
Twitter: @ZATGAME