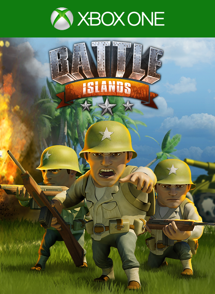 Content: Battle Islands
Check availability in your Xbox LIVE region
Game Description: You'll need to act quickly in this action-packed, WW2-themed battle strategy game – control air, sea, and land forces, build your garrison, battle against friends and create powerful allegiances! Control troops, jeeps, tanks, boats and warplanes over air, sea, and land as you vie for superiority deep in the South Pacific. Compete with similarly-ranked players to be top of your division. Create or join an Alliance, and chat with other Alliance members. Or choose to go it alone!
Download and play Battle Islands for free.
Download Battle Islands for Xbox One from the Xbox Games Store
Product Info:
Developer: DR Studios Ltd
Publisher: 505 Games Ltd
Website: Battle Islands
Twitter: @BattleIslandsHQ