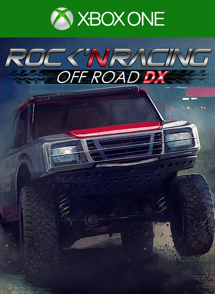 Content: Rock 'N Racing Off Road DX
Check price and availability in your Xbox LIVE region
Game Description: Get ready to enjoy Off Road races with your friends and family! Rock'N Racing Off Road DX offers the most entertaining and exciting races, with loads of skids, crashes and amazing jumps. You will have several modes of play, such as Cup mode, time trial and multi-player with the option of up to 8 Players at a time. Online ranking table where you can compare your best times with friends and players from around the world.
Buy it now and save 20% (Limited Time Offer)
Purchase Rock 'N Racing Off Road DX for Xbox One from the Xbox Games Store
Product Info:
Developer: EnjoyUp Games
Publisher: EnjoyUp Games
Website: Rock 'N Racing Off Road DX
Twitter: @enjoyupgames