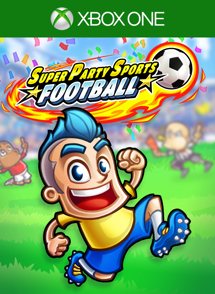 Content: Super Party Sports: Football
Check price and availability in your Xbox LIVE region
Game Description: Charge up your soccer ball, calculate power and shoot down every rival in your way! Featuring smashing physics puzzle action and 100 levels of tactical fun. Pass, shoot and destroy your opponents in brilliant battles on the field. Plan effective passes, take down heavy rowdies and smash the goalkeeper to win the match. Super Party Sports: Football is a physics puzzle game full of action and fun. Solve tricky riddles, fight against different types of enemies and score a goal. Take the challenge with players from different leagues and FCs. Choose your favorite 11 to play your own cup finals 2014.
Purchase Super Party Sports: Football for Xbox One from the Xbox Games Store
Product Info:
Developer: HandyGames
Publisher: HandyGames
Website: Super Party Sports: Football
Twitter: @handy_games