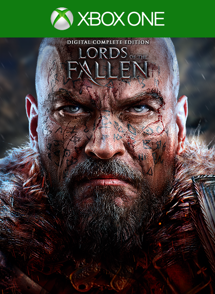 Content: Lords of the Fallen Digital Complete Edition
Check price and availability in your Xbox LIVE region
Game Description: Plunge into the new Digital Complete Edition of Lords of the Fallen! Master the Challenge in the Ancient Labyrinth expansion containing a new location, loot and enemies led by a powerful new Lord. Embark on a Monk Decipher Quest, equip powerful Demonic Weapons or armors from the Lionheart Pack and enhance your powers with Arcane and Foundation Boosts.
This bundle includes Lords of the Fallen + Anicent Labyrinth DLC, The Lionheart Pack, Demonic Weapons Pack, The Arcane Boost, The Monk's Decipher and The Foundation Boost. Click here for more information about each of these items.
Purchase Lords of the Fallen Digital Complete Edition for Xbox One from the Xbox Games Store
Product Info:
Developer: CI Games, Deck 13
Publisher: CI Games
Website: Lords of the Fallen
Twitter: @CIGamesOfficial / @Deck13_de / @lotfgame