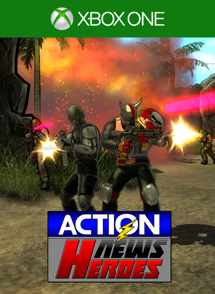 Content: Action News Heroes
Check price and availability in your Xbox LIVE region
Game Description: No longer able to protect their own interests, Network X hires a rag tag group of mercenaries who've been tasked with eradicating Sabre. Your job is to destroy Sabre on live TV as Network X's top hit news program, Action News Heroes. Put on a good show to boost Network X's ratings, and discover why Sabre has a sudden interest in destroying Network X.
Purchase Action News Heroes for Xbox One from the Xbox Games Store
Product Info:bit
Developer: Krewe Studios
Publisher: Krewe Studios
Website: Action News Heroes
Twitter: @KreweStudios