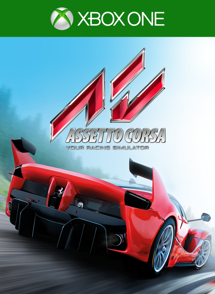 Content: Assetto Corsa
Check pre-order price and availability in your Xbox LIVE region
Game Description: You may pre-download this game, but it will not be playable until 12:01 AM EST on the release date (8/30/16).
This is not just a game. This is real sim racing. In collaboration with the most prestigious car manufacturers, Assetto Corsa ups the simulation stakes with a focus on pure driving realism, with pin-point accuracy across every aspect of the game. Includes over 90 dream cars from Ferrari, Lotus, Mclaren, Pagani, Alfa Romeo, Toyota, Maserati, BMW, Audi, Lamborghini, Ford, Mercedes Benz, and Shelby, all rendered to an obsessive level of detail, each with bespoke handling and performance modelling taken from manufacturer's real-life data and telemetry.
This pre-order bundle includes the game and Performance Pack DLC (featuring the Ferrari 488 GTB, the Audi R8 V10 Plus and Corvette C7 Stingray).
Xbox One Pre-Order FAQ