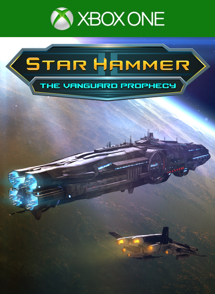 Content: Star Hammer: The Vanguard Prophecy
Check price and availability in your Xbox LIVE region
Game Description: Star Hammer: The Vanguard Prophecy is a game of 3D tactical space battles. Play your part in the Second Contact War in a campaign with a branching story and over 60 missions, or create your own scenarios in skirmish mode battles. Six classes of assaults ships are yours to command. Make precision strikes with the swift Swordfish Raiders, or lead from the bridge of a hulking Kraken Dreadnought. Change your tactics as you order reinforcements with stun guns, guided missiles, unmanned fighter drones and single-focus DEW beams.
Purchase Star Hammer: The Vanguard Prophecy for Xbox One from the Xbox Games Store
Product Info:
Developer: Black Lab Games
Publisher: Slitherine Ltd
Website: Star Hammer: The Vanguard Prophecy
Twitter: @blacklabgames