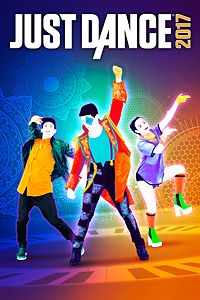 Content: Just Dance 2017
Check pre-order price and availability in your Xbox LIVE region
Game Description: You may pre-download this game, but it will not be playable until 12:01 AM EST on the release date (10/25/2016).
Just Dance 2017 is more fun & easier to play than ever! No camera needed to play. Simply download the free Just Dance Controller App to your smartphone to dance with up to 5 friends! Just Dance 2017 is coming with over 40 tracks at launch, and more than 200 songs available via Just Dance Unlimited! 3-month trial included with your game. Enjoy 6 game modes including the new frantic "Just Dance Machine", customize your workouts with "Sweat + Playlists", or try and beat the game with "Dance Quest"!
There are 2 versions of Just Dance 2017 available for pre-order – Just Dance 2017 and Just Dance 2017 Gold Edition. Click each link for more details or see below.
Xbox One Pre-Order FAQ
Just Dance 2017 Gold Edition
 – this bundle includes all of the tracks and game modes in Just Dance 2017, plus access to over 200 songs through a 3 month subscription to Just Dance Unlimited!