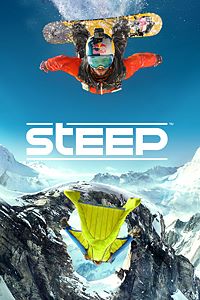 Content: Steep
Check pre-order price and availability in your Xbox LIVE region
Game Description: You may pre-download this game, but it will not be playable until 12:01 AM EST on the release date (12/2/2016).
Ride a massive open world across the Alps, where the powder is always fresh and the run never ends. The mountain is yours to explore. So strap in, suit up, and drop in. Conquer the world's most epic mountains on skis, wingsuits, snowboards, and paragliders. Create your own path through a massive open world. Ride solo or drop in next to other players to share thrilling rides. Participate in unique and spectacular challenges. Capture your best stunts and share via social media.
Pre-order now receive three additional challenges and items.
There are 2 versions of Steep available for pre-order – Steep and Steep Gold Edition. Click each link for more details or see below.
Xbox One Pre-Order FAQ
Steep Gold Edition – the Gold Edition includes the game and the Season Pass, which gives you access to:
– 3 DLC packs featuring additional sports, challenges and outfits
– 10,000 Steep credits
– Bonus Helicopter tickets
– An exclusive fun costume