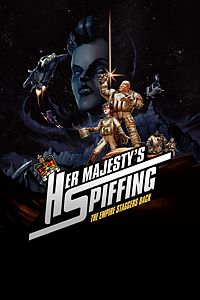 Content: Her Majesty's SPIFFING
Check price and availability in your Xbox LIVE region
Game Description: In the wake of political developments during the summer of 2016 and the events that followed, Britain found itself increasingly isolated from global society. Her Majesty concluded that, given the complications Britain was facing returning to a position of power on earth, perhaps it was time to focus her attention elsewhere… Establishing S.P.I.F.F.I.N.G. (Special Planetary Investigative Force For Inhabiting New Galaxies) Her Majesty has turned to the stars in a bid to establish a new, Galactic British Empire!
Purchase Her Majesty's SPIFFING for Xbox One from the Xbox Games Store
Product Info:
Developer: Billy Goat Entertainment Ltd
Publisher: Billy Goat Entertainment Ltd
Website: Her Majesty's SPIFFING
Twitter: @OfficialGoat