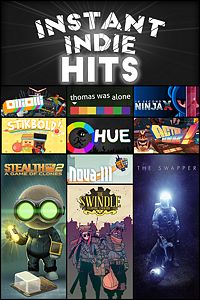 Content: Instant Indie Hits
Check price and availability in your Xbox LIVE region
Game Description: The Instant Indie Hits bundle from Curve Digital features 10 games including: The Swapper, Thomas Was Alone, Hue, Stealth Inc 2, Stikbold, The Swindle, OlliOlli, Nova-111, Action Henk and 10 Second Ninja X. From 08 May to 15 May save up to 80% and get 10 amazing games in one bundle.
Xbox Live Gold members –  buy now and save 80% – Limited Time Offer.
Purchase Instant Indie Hits for Xbox One from the Xbox Games Store
Product Info:
Publisher: Curve Digital
Website: Instant Indie Hits
Twitter: @CurveDigital