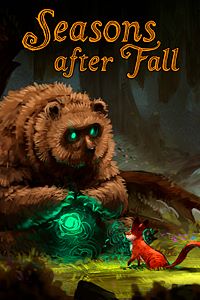 Content: Seasons after Fall
Check price and availability in your Xbox LIVE region
Game Description: Seasons After Fall is a 2D platform-puzzler game that will let you dive into a captivating universe and explore a land governed by magic and nature. As a wild fox you are sent on a perilous journey to meet the four Guardians, aided only by your ability to change the seasons at will, manipulating a gorgeous 2D world. Each of the seasons has a drastic change on the environment: it is up to you to change the world and open new paths. Winter can freeze waterfalls, and the rain from Spring can raise water levels, while Summer can cause some plants to grow and extend.
Purchase Seasons after Fall for Xbox One from the Xbox Games Store
Product Info:
Developer: Swing Swing Submarine
Publisher: Focus Home Interactive
Website: Seasons after Fall
Twitter:  @swingswingsub / @FocusHome