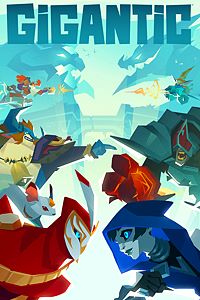 Content: Gigantic
Check price and availability in your Xbox LIVE region
Game Description: A MOBA, a third-person shooter, an unforgettable experience, GIGANTIC is hardcore five-on-five PvP action for skilled gamers. Choose from a huge roster of unique heroes, each with fantastical spells, weapons, and abilities. Fight against enemy teams, summoning incredible creatures to combat the foe. Race to power up your team's Guardian before your enemy beats you to the five-story high punch. Each hero features a comprehensive skill tree empowering players to win and encouraging players to perfect significantly different playstyles.
Purchase Gigantic Starter Bundle from the Xbox Games Store
Purchase Gigantic Ultimate Bundle from the Xbox Games Store
Download Gigantic for Xbox One from the Xbox Games Store
Download Gigantic for Windows 10 PC from the Microsoft Games Store
Product Info:
Developer: Motiga
Publisher: Motiga
Website: Gigantic
Twitter: @MotigaGames / @GoGigantic
Gigantic Starter Bundle – The Gigantic Starter Pack contains the following items: 8 Heroes – The Margrave, HK 206, Beckett, Lord Knossos, Tyto the Swift, Charnok, Uncle Sven, Xenobia Lord Knossos Gladiator Skin, 1 Win Boost (Prestige), 100 Rubies and 5 Fortune Card Draws.
Gigantic Ultimate Bundle – Secure ALL heroes for life, now and forever, to ensure your strategy is always fresh and diversified. Gain access to two exclusive skins, Rubies, boosts, and more!