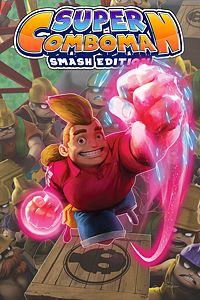 Content: Super Comboman: Smash Edition
Check price and availability in your Xbox LIVE region
Game Description: Enter a new action hero. An energetic islander with a funked up mullet nugget, wearer of loud Hawaiian shirts, eater of chocolate chip cookies, and owner of a talking fanny pack (yeah, a talking fanny pack). His name is Struggles, and he's the working class hero with an 'All You Can' attitude, a spinning pile driver, and fireball moves to match.
Purchase Super Comboman: Smash Edition for Xbox One from the Xbox Games Store
Product Info:
Developer: Interabang Entertainment
Publisher: Flashman Games
Website: Super Comboman: Smash Edition
Twitter: @InterabangEnt / @FlashmanLLC