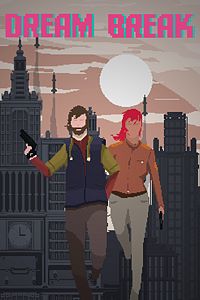 Content: DreamBreak
Check price and availability in your Xbox LIVE region
Game Description: Depicted in a distinctive Cyrillic pixel art style the cyberpunk city crackles with tech-noir intrigue and neo-digital deceptions. Using every tool at your disposal help Eugene to unpick the knot of mystery that he has become enmeshed within – your equilibrium will be rocked as you point and click a path through this briar patch of tangled meaning and unexpected quixotic quirks.
Buy now and save 20% – Limited Time Offer.
Purchase DreamBreak for Xbox One from the Xbox Games Store
Product Info:
Developer: Aist / Beatshapers
Publisher: Digerati Distribution
Website: DreamBreak
Twitter: @aist_games / @Beatshapers / @DigeratiDM