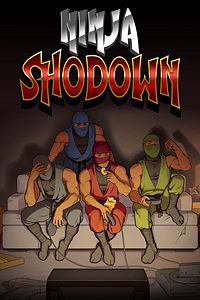 Content: Ninja Shodown
Check price and availability in your Xbox LIVE region
Game Description: It's every ninja for themselves in the ultimate battle for the Jade Katana! Fight alone, team up or take on friends in brutal arena-based combat where the mighty prevail and the weak pay the ultimate price: death and dishonour! The year is 199X and the world teeters on the brink of total destruction. The mystical Jade Katana, stolen! Its power, so lethal! In the wrong hands, humanity will fall! And so the Viper Clan, sworn guardians of the Jade Katana, prepare to embark on their most perilous mission yet: retrieve the sword at all costs! Use katanas, shurikens, bombs, machine guns, shotguns, bazookas and more as you battle your way through a variety of locations to become the ultimate ninja and fulfill the ancient vow of the Viper Clan.
Purchase Ninja Shodown for Xbox One from the Xbox Games Store
Product Info:
Developer: Rising Star Games
Publisher: Rising Star Games
Website: Ninja Shodown
Twitter: @RisingStarGames