Category:

Xbox Store
Blowfish Bundle #1 – Gunscape & Siegecraft Commander Is Now Available For Xbox One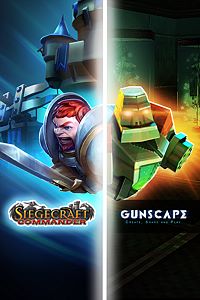 Content: Blowfish Bundle #1 – Gunscape & Siegecraft Commander
Check price and availability in your Xbox LIVE region
Game Description: Blowfish Studios first bundle of two awesome Xbox One games!
Gunscape is an FPS world-building hybrid in which gamers create, share and enjoy their own maps; in addition players can discover and play maps created by others. Inspired by classic shooters, Gunscape takes all their most memorable elements and puts them in a toolkit to create single player and co-op campaigns or multiplayer arenas.
Siegecraft Commander lets yous carefully plan the location of the towers and walls in your fortress network to outmaneuver your foes. Easy-to-learn strategic elements combine in subtle ways to yield a rich tactical experience. Enjoy intuitive turn-based tactical gameplay or the intensity and richness of real-time strategy for multiplayer across compatible platforms!
Purchase Blowfish Bundle #1 – Gunscape & Siegecraft Commander for Xbox One from the Xbox Games Store
Product Info:
Developer: Blowfish Studios
Publisher: Blowfish Studios
Website: Games by Blowfish Studios
Twitter: @blowfishstudios