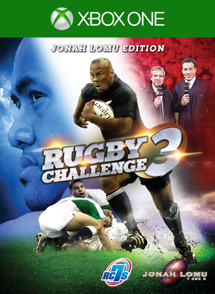 Content: Rugby Challenge 3
Check price and availability in your Xbox LIVE region
Game Description: Bringing the realism and fast-paced action of seven a side Rugby. Control your own destiny over 13 action packed seasons starting as a rookie and finishing as a pro. Interactive player creator allows you to create yourself as a player and play through the ranks. Custom players and teams with new tattoo feature, shared online across all platforms. Modes include: Single Match, Multi-team, Competition, extensive multi-year Career Mode, Be a Pro Mode, and Online.
Purchase Rugby Challenge 3 for Xbox One from the Xbox Games Store
Product Info:
Developer: Wicked Witch Software
Publisher: Home Entertainment Suppliers P/L
Website: Rugby Challenge 3
Twitter: @WickedWitchNews / @trublugames / @Rugby_Challenge