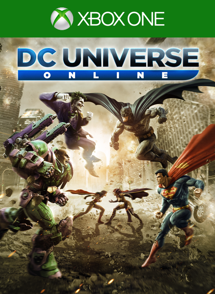 Content: DC Universe Online
Check availability in your Xbox LIVE region
Game Description: DC Universe Online is now on Xbox One! Join thousands of other players in this Free-to-Play, massive online action game set in the popular DC Comics universe. Choose your side – Hero or Villain – and create your character to experience true action combat, as you fight alongside and against legendary characters such as Batman, Wonder Woman, Superman, Lex Luthor, and Circe. Jump in and explore the DC Universe; walk the darkened streets of Gotham City, investigate the mysteries of the futuristic cityscape of Metropolis, and travel to legendary locations such as Arkham Asylum and the Watchtower.
Download DC Universe Online for Xbox One from the Xbox Games Store
Browse DLC for DC Universe Online
Product Info:
Developer: Daybreak Games
Publisher: Daybreak Game Company, LLC
Website: DC Universe Online
Twitter: @DaybreakGames / @DCUO
For more information about DC Universe Online, check out Xbox Wire.