Category:

Games
Xbox and DPM Studio, the Camouflage Division of maharishi, Team Up on Exclusive X019 Controller and Apparel
Ahead of X019, which is taking place in London and only a few weeks away, we're excited to share details on an exclusive collaboration with DPM Studio – the camouflage division of Hardy Blechman's London based streetwear label, maharishi. The collaboration blurs the lines between gaming and lifestyle and brings fans a fresh experience with the Xbox Wireless Controller – DPM X019 Exclusive, as well as new Xbox Official Gear from Meta Threads, and custom wallpapers for all your devices.
Xbox Wireless Controller – DPM X019 Exclusive
If you're a collector who covets rare and exclusive loot, you won't want to miss the Xbox Wireless Controller – DPM X019 Exclusive. Designed in collaboration with DPM Studio, this controller features the Aquabrush print – a custom camouflage that was made exclusively for X019. Aquabrush is inspired by the traditional 1950's lizard-brushstroke camouflage and the River Thames in London. The design brings together the origins of artistry in camouflage design and the celebration of the rich culture of the U.K., subtly integrating iconic landmarks in London and a section of the River Thames with the hallmark maharishi dragon. This is your chance to own a unique and exclusive piece of X019, whether you're joining us in London or tuning in online. With only 1,000 units available for sale, quantities are extremely limited, so you'll want to act fast.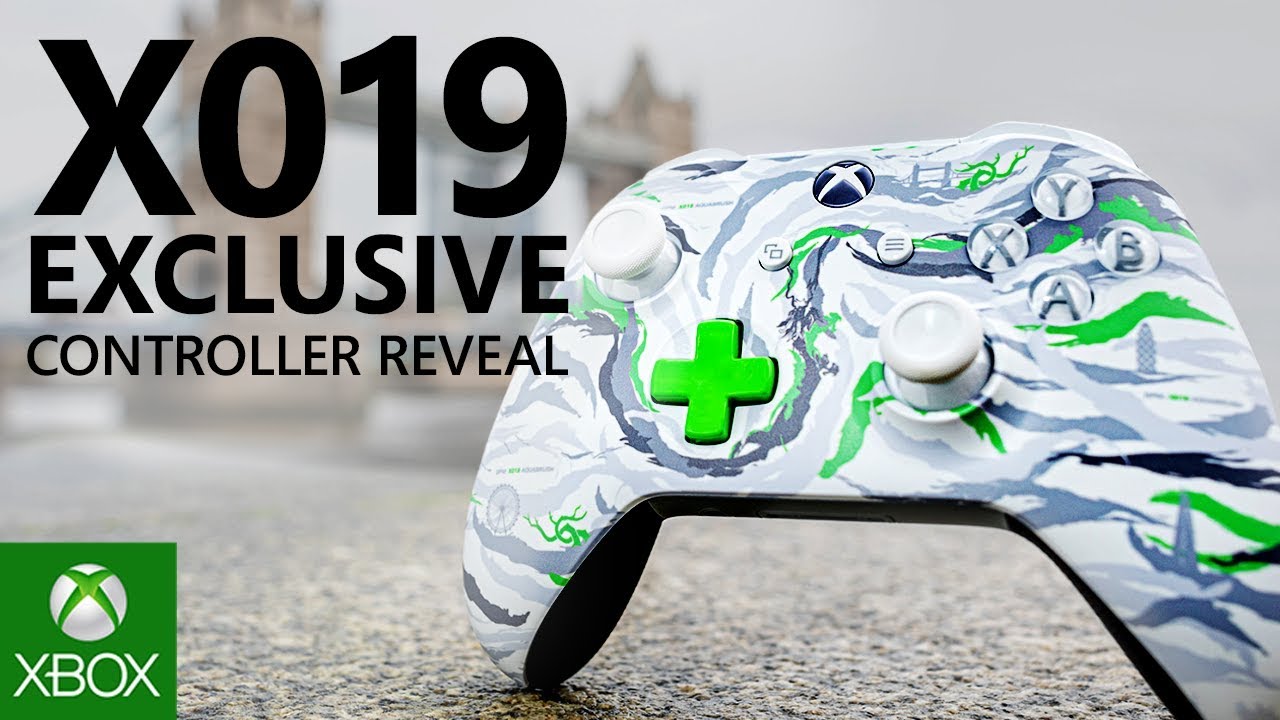 As our most limited-run Xbox Wireless Controller to date, the controller will drop on November 14 at 2 p.m. PST/10 p.m. BST – directly after the X019 episode of Inside Xbox – for $99.99 USD. The controller will be available from Microsoft Store online in the U.S., Canada, and the following European countries: Austria, Belgium, Bulgaria, Croatia, Cyprus, Czech Republic, Denmark, Estonia, Finland, France, Germany, Ireland, Italy, Latvia, Lichenstein, Lithuania, Luxembourg, Netherlands, Norway, Poland, Portugal, Romania, Slovakia, Slovenia, Spain, Sweden, Switzerland, and the United Kingdom. For those of you joining us in London, the controller will also be available in very limited quantities each day of X019 at the Copper Box Arena and at the flagship Microsoft Store in London on November 14.
As with all Xbox Wireless Controllers, the Xbox Wireless Controller – DPM X019 Exclusive is compatible with all Xbox One consoles and includes fan-favorite features such as a 3.5mm stereo headset jack, rubberized diamond grip, and Bluetooth technology for playing your favorite games across multiple devices. You can also take advantage of the custom button-mapping feature through the Xbox Accessories app to customize your controller just the way you like it.
Xbox Official Gear from Meta Threads
To complement the controller, we've also teamed up with Meta Threads and PinUSA to bring the X019 Aquabrush camouflage print to various apparel options – including premium shirts, a new bomber jacket, and the popular Xbox Sphere Pin. All of these items will be available to purchase online on November 14 at 2 p.m. PST/10 p.m. BST, and at the Copper Box Arena in London during X019, exclusively from Xbox Official Gear.
DPM X019 Aquabrush Wallpapers
Lastly, Xbox is offering the exclusive X019 Aquabrush camouflage print in a range of wallpapers and backgrounds to personalize each of your devices. You can find the DPM X019 Aquabrush Light and DPM X019 Aquabrush Night wallpapers here.
We're excited to partner with DPM Studio to bring this exclusive Xbox Wireless Controller, apparel, and wallpapers to fans. Be sure to catch the X019 episode of Inside Xbox on November 14 here. See you then!